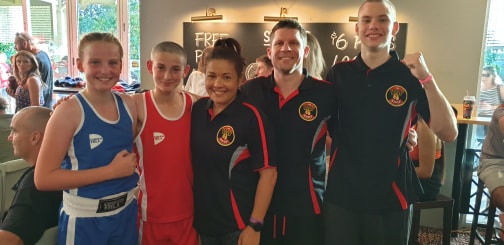 With 7 boxers matched up at last weekends local boxing show ran by the Albert Shire Boxing ,the club came away with a solid result of 5 wins and 2 losses.
Success came to Caitlin & Eddie Leslie,Daniel Mohr,David Toomua and Dan Ware while Vylita Toomua and Sam Mohammed were beaten on the day.
This weeks star of the show was Eddie Leslie from Mansfield.
Eddie was boxing against an unbeaten boxer from All star boxing gym who is from a good family with a history of good boxers.
The fight was evenly matched yet Eddie kept to his plan of boxing using his good foot movement and only straight attacks through the match.
Opponent , Utai,had his moments and the fight was a very willing contest with both 12 year old boys digging and and showing that they both have promising futures in the sport.
10 year old Caitlin Leslie and her opponent Scarlet Schuett put on a non stop display of boxing,both girls put it all on the line with a continued display of attacks, "Caity got the win but it was a close one " said coach Shara Romer "she landed the cleaner shots but Scarlet was digging deep to take the win".
Dan Ware was also back in the ring after 3 year lay off " Dan was excellent" said coach Gareth Williams " he has great agility and movement for a big man,he uses angles on his feet and a very good jab,this is what got him the win". Ware stopped his opponent in the third round but it was the good boxing skills that created the platform.
Dan Mohr from the Redlands district travels to Salisbury 5 days a week for training and his dedication is showing. Mohr took his record to 10 wins and 4 losses with a controlled yet dominant display of boxing over his very willing and strong opponent from Cherbourg boxing club.Dan has his sights set on the state championships at the end of the year.
David Toomua,brother of Wallabies International Rugby player Matt Toomua,was matched in a very tough match against Emery Falcon.The first round was very good by Toomua as he controlled the match with a solid jab,but then the second round started and it was a different fight.Falcon came out and was strong in rounds 2 and 3 keeping the pressure on Toomua , "Dave did enough to win but the last round was a cracker for the crowd,you dont see local professional boxers putting it all on the line like these two men did".
An amazing display from the team and coaches Gareth Williams and Shara Romer were extremely happy with the crew.
This week Jack Bowen and Kendall Byrnes are representing Queensland at the Arafura games in Darwin.
Byrnes has drawn fellow Queenslander Ange Harris in the first round where Bowen will fight on Wednesday against the South Australian champion.